Social media users are sharing videos of Pakistan National Assembly members allegedly chanting "Modi Modi" in the middle of a parliamentary session. Along with the video, the claim states that: "लो भाई पाकिस्तान की संसद में लगे मोदी-मोदी के नारे। अभी तो यह झांकी है लाहौर कराची बाक़ी है" which literally translates in English to: "See how even the Pakistan Parliament is chanting Modi's name. This is just a trailer, Karachi and Lahore are next."
The video has been shared widely by many prominent figures on social media. Similar videos have been uploaded on YouTube too. Few news outlets had also published the video claiming the same.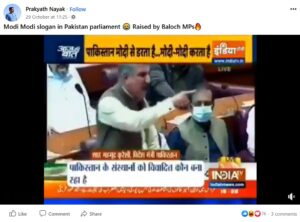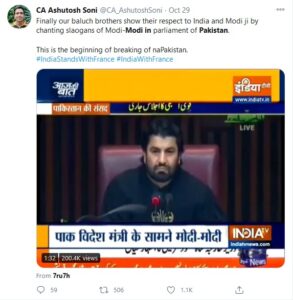 Fact Check:
Digiteye India team conducted a reverse Image search and landed on two Pakistan Parliamentary videos uploaded by a Pakistani news channel, Public News. The video being circulated widely is a snippet of the October 26, 2020 proceedings which can be accessed and viewed on Youtube as uploaded by Public News. The chant can be heard at 13:29 minutes in the video.
On careful hearing, the listener can clearly gauge that the parliamentarians are shouting "Voting, Voting" and not "Modi, Modi".  This can be confirmed further as shortly after the chant, Deputy Speaker Qasim Suri is seen saying,  "Voting sab kuch hoga.. sab kuch hoga.. sabar rakhe aap" (We will have a voting session, have patience).
Although Modi's name was referred to in the session, the Pakistan National Assembly did not chant his name in unison. At the beginning of the session, the microphones were switched off for a few moments as a ruckus was caused. A resolution was passed in the assembly calling the recent publication of by French magazine Charlie Hebdo as "blasphemous". Both the sides wanted to present their side of the resolution which caused an uproar.
Resolution on Blasphemy
A report by Dawn sheds light on the proceedings of the session. The report states how the ruckus was caused earlier when "Foreign Minister (Mehmood) Qureshi read out another resolution that the government wanted to be passed with consensus on the issue of blasphemy. With opposition members chanting "voting! voting!" for the resolution presented by Asif, a furious Qureshi accused the opposition of "doing politics" on the sensitive matter."
Another Pakistan based news outlet, Pakistan Today stated that Mehmood Qureshi had pointed to Khwaja Asif and said how under "the PML-N's tenure that Pakistan was placed on the watchdog's list" of the Financial Action Task Force. According to the report ", he (Qureshi) accused the opposition of peddling "India's narrative" and making national institutions "controversial".
Towards the end of the session, a unanimous resolution was passed against the "blasphemous" sketches. They stated that "[the assembly] condemns unequivocally the practice of blasphemy and of insulting prophets of Islam, Christianity and Judaism alike," according to the resolution, which also denounced acts of terror carried out in the name of any religion; as reported by Dawn.
Conclusion:
Our rating

— Totally False. The Pakistan National Assembly members did not chant Indian Prime Minister Modi's name.