Thank you Hiraben Modi@kunalkamra88#AyegaTohModiHi😂😂😂……kaise ?#MyVoteforCongress #GujaratElections2019 pic.twitter.com/Bd0dkHR9Wb

— Mere Achhe Din Ayenge (@VotHardVotHard) April 23, 2019
Amid elections to the Lok Sabha, here's a political message used with PM Narendra Modi's mother holding a paper that read "Don't vote for Modi". The message with the image shows "Thank you Hiraben Modi". Hiraben is Modi's mother.
At the very look, it was suspicious owing to its contrarian message and Digiteye India quickly checked its veracity to find out that it's another morphed image being shared on social media. Here's the original picture obtained in Google Reverse Image search: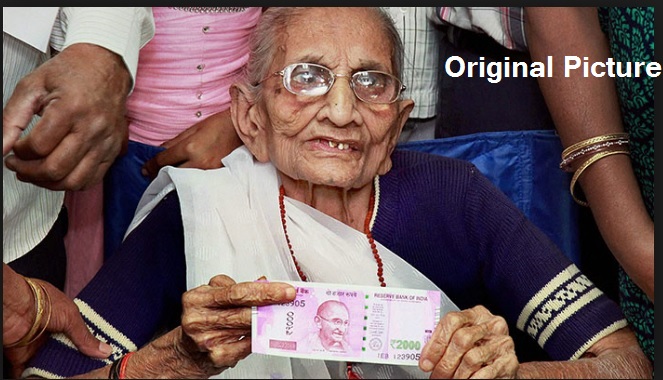 The original photo was taken way back in September 2016 following the demonetisation of Rs.1000, Rs.500 notes and the news pertains to Modi's mother Hiraben going to the bank and exchanging the currency with a new note that she showed to media. It may be recalled that the photo went viral in social and print media showing how even the mother of PM was in long queues following demonetisation.
Conclusion: The current morphed image shows a white paper that carries the message of "Don't vote for Modi". Owing to the election campaign, this claim is entirely a Misrepresentation ???.