Congress spokesperson Priyanka Chaturvedi has tweeted a collage of photographs on Monday to showcase the rally held by Congress in UP on the eve of Priyanka Gandhi joining active politics as General Secretary of the party, in-charge of Eastern Uttar Pradesh.
Here's the tweet put out by the spokesperson: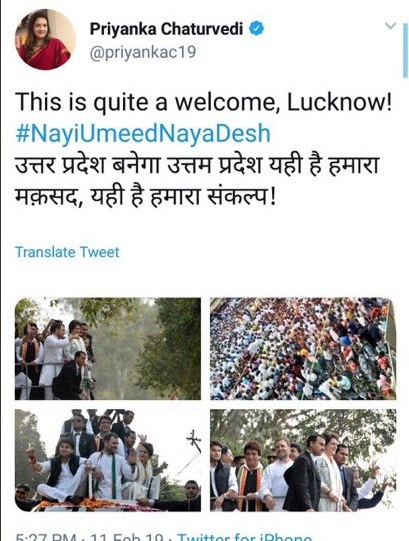 While Digiteye India team searched for the image in Google Reverse Image, it threw up no results. Then we checked Twitter, and it threw up a December  2, 2018 picture that was used by a Twitter handle @Kkdtalkies.  It was, indeed, a photo of Gazwel election meeting, which is in Telangana. On further research, we could locate the image as a screengrab from a news video belonging to Vaartha Vaani, an online TV news channel in Telugu.
Gazwel is the constituency of Telangana chief minister K. Chandrasekhara Rao and his main opponent was Vanteru Pratap Reddy from Congress. The image was part of the video shown below. It was posted on Youtube on December 4, 2018, during the Telangana elections in December 2018.
See the video here:
See the real picture from Pratap Reddy's rally weeted on December 2, 2018:

This picture does not belong to UP, nor is it a real picture taken during the rally of Priyanka Gandhi's roadshow. A wrong picture has distorted the truth. However, the Congress spokesperson removed the photo later and added a video taken during the rally in UP as shown below:

Here goes…corrected…Poor BJP trolls clutching at straws to save their leader's face in U.P.!
This is quite a welcome, Lucknow! #NayiUmeedNayaDesh
उत्तर प्रदेश बनेगा उत्तम प्रदेश यही है हमारा मक़सद, यही है हमारा संकल्प! pic.twitter.com/uk0XfpdfcI

— Priyanka Chaturvedi (@priyankac19) February 11, 2019

Conclusion: The photo used was obviously not the right one and hence misleading. Our rating is ?? (Misrepresentation).