Recently a video of a temple elephant in Bengaluru throwing away a person going inside has been going viral on WhatsApp. The caption on the video in Kannada says: "Not wearing a mask! Get out".
It was widely shared by people who appreciated that the elephant was wise enough to prohibit entry of devotees if they do not wear a mask amid Covid pandemic. Some have pointed out that nobody can argue with the bouncer here.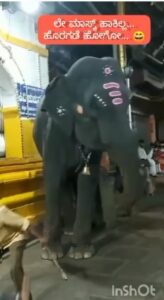 FACT CHECK
When Digiteye India received the video, we have decided to fact-check it for truth. A frame-wise cut and search on Google and Youtube revealed the real origin of the video. Originally uploaded on Dec. 2, 2021, by a user identified as Saketha on Youtube, the video describes that the elephant gets angry but it doesn't state that the elephant has been trained or instructed to throw away devotees if they do not wear a mask.
Further research revealed that the elephant belongs to Kkke Subramanya Swamy temple in Bengaluru and several videos have been uploaded on Youtube about the temple elephant and its participation during the worship by priests in the temple. The elephant is also trained to bless devotees as seen in other videos on Youtube.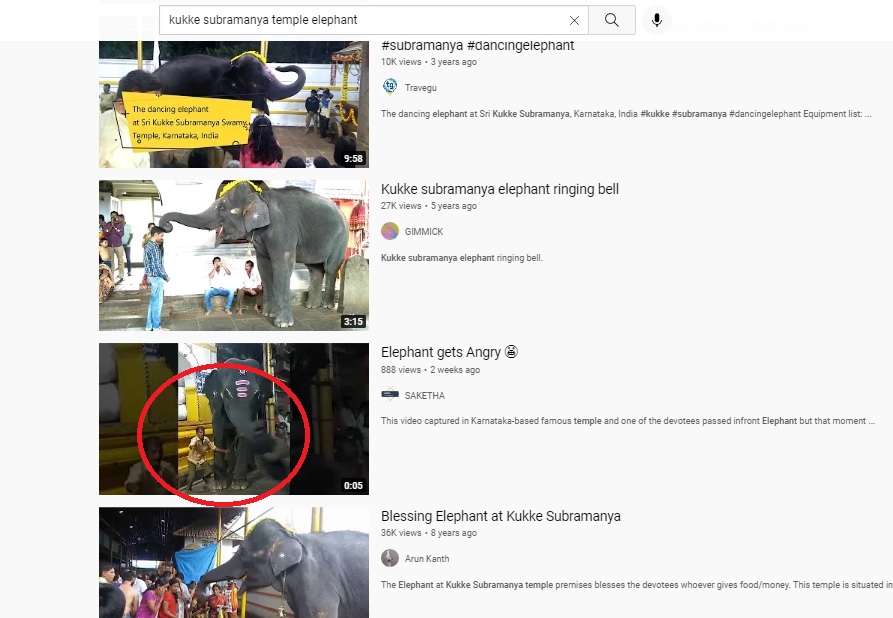 Moreover, the description in the marked video on Youtube doesn't state that the elephant was throwing away those who were not wearing a mask. Even the trainer sitting next to it was seen without a mask and rushed to help the devotee.
Moreover, the Youtube user provides the original description to the video as below:
"This video captured in Karnataka-based famous temple and one of the devotees passed in front (of an) Elephant but that moment Elephant was not in good Mood," and tagged it with its name Yashaswini and the temple name #kukke and #subramanya.
Hence, there is no relation to the person not wearing a mask while entering the temple nor that the elephant was throwing him outside because of that. The incident was highly misrepresented, though the intention was positive due to the Covid situation in the city of Bengaluru.
Claim: Temple elephant throws out devotee for not wearing a mask.
Conclusion: Unrelated video was used with the claim that is false.
Rating: Misrepresentation —