A message started circulating widely on social media with a message asking people not to eat bakery food.It claimed that the bakery food is not washable even if infected from the coronavirus. The message next to the logo of the World Health Organization (WHO) started attracting attention at a time when Coronavirus is closely monitored by people and they look at the world body for advisory almost on a daily basis.
"Stop eating bakery items! It is strictly advised to not to eat bakery items as it is not washable and can get infected to the virus easily," read the message.
FACT CHECK
Since WHO has never issued any such specific advisory on food, Digiteye India team took it up for fact check. So far, WHO has only given advise on hygiene, to keep away from the deadly Coronavirus COVID-19. Search for the message pertaining to bakery foods on WHO returned no results as seen below from the screen grab: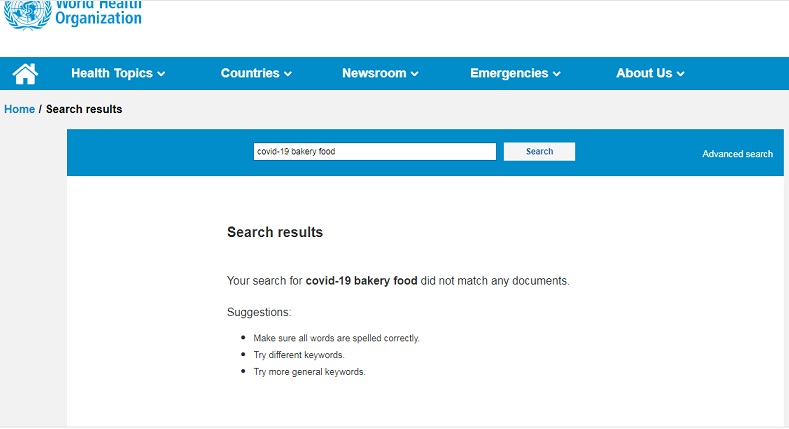 Additional search for any link between coronavirus and bakery food items too yielded no results. Even the US Food and Drug Administration says that there is no "evidence of food or food packaging being associated with the transmission of COVID-19." Here's a screen grab of what FDA says on food and coronavirus:
Conclusion: There is no scientific evidence to suggest that bakery items or for that matter any other food item to have been contaminated with coronavirus, which is possible only when an infected person intentionally coughs on it and contaminates it. Our rating of the claim is ??? Misrepresentation.