Recently, BJP state wings have used a very impressive picture available on the Internet on their posters to claim roads being built or already built, an indication of development and good governance. It was widely shared on Facebook even by BJP MP Madan Lal Saini from Rajasthan last week as shown below: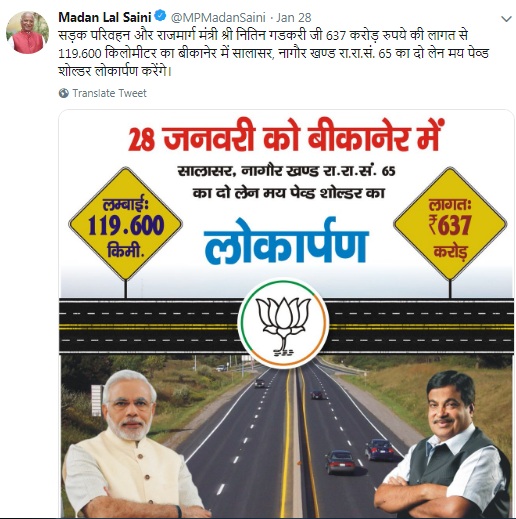 The image of the road was used when Union road transport and highway minister Nitin Gadkari was to lay the foundation for a National Highway project in Rajasthan on Monday, January 28, 2019. It was uploaded by BJP's Rajasthan unit.
The social media poster showcasing Gadkari and Prime Minister Narendra Modi had a caption that said the minister will inaugurate 162.46 kms of two-lane paved shoulder being built at a cost of Rs 860.26 crore in Bikaner across Raisinghnagar, Anupgarh, Gharsana, Sattasar, and Pugalkhand.
It was widely shared by BJP leaders on Twitter, including BJP Rajasthan president Madan Lal Saini as shown below:
सड़क परिवहन और राजमार्ग मंत्री श्री नितिन गडकरी जी 895 करोड़ रुपये की लागत से 212.107 किलोमीटर का बीकानेर में खाजूवाला, पूगल, दंतौर, जगासर, गोकुल, गोडू, रण, जीतपुरा, चारणवाला, नौख, वाप खंड का दो लेन मय पेव्ड शोल्डर का शिलान्यास करेंगे। pic.twitter.com/xDhToJxqHR

— Madan Lal Saini (@MPMadanSaini) January 28, 2019
When Digiteye India team searched using Google Reverse Image, it threw up several past uses, traceable to the original A2 motorway in Poland. Here's the original picture in Wikipedia with Creative Commons open license. See the picture at this link: https://commons.wikimedia.org/wiki/File:PL_A2_Poznan_Komorniki.JPG
The photograph was used way back in 2015 by BJP to showcase Modi government's agenda to build new roads. See the image shared on Twitter on November 19, 2015.
Modi Government's Reform Measures Continue : 34 Stuck Road Projects Worth Rs. 35,000 Crore to be Revived. pic.twitter.com/IcM4aYX8as

— BJP (@BJP4India) November 20, 2015

Conclusion:
The picture used in these messages by BJP's official Twitter handle is wrong, intentionally misleading and misrepresenting facts or images as their own. Our rating of this news is ??? (Misrepresentation).