Just 10 days before the country was to take up the pulse polio drive, a news started appearing in news domain that there is a shortage of polio vaccine and the National Immunization Day scheduled for February 3 may be postponed.
Online news publication "The Print" published a story on Thursday with a headline that read, "India doesn't have polio vaccine for the next round of immunisation." Here's a screen grab:
Soon misinterpretations took several formats going to the extreme of saying the fiscal budget deficit this year may not afford enough polio vaccines for the country's children. Maharashtra Congress has captioned it in large comparing it with other expenditure as below. Many have trolled the shortage of vaccines as seen below:
Modi Govt has postponed indefinitely the polio immunisation as India is facing acute shortage of polio vaccines due to lack of funding!
We have a Govt at Centre which squandered ₹6000 Cr from Taxpayer's money for Prime Minister's publicity & foreign tourshttps://t.co/OzfzHYSY9U

— Maharashtra Congress (@INCMaharashtra) January 25, 2019
KICKING MIDDLE INCOME FAMILIES – NO POLIO VACCINE@INCTharoorian IS THIS A BJP POLICY?
ARE KIDS NOT WORTH?
UP OXYGEN ISSUE A STARK REMINDER
WHAT NEXT BJP? pic.twitter.com/VCfRwnw90w

— Anthony Saldanha (@AnthonySald) January 25, 2019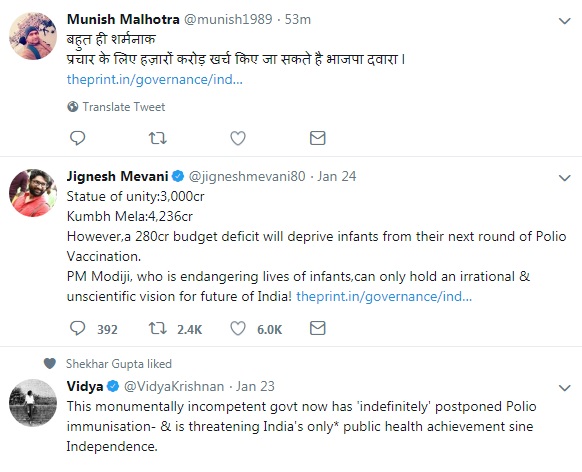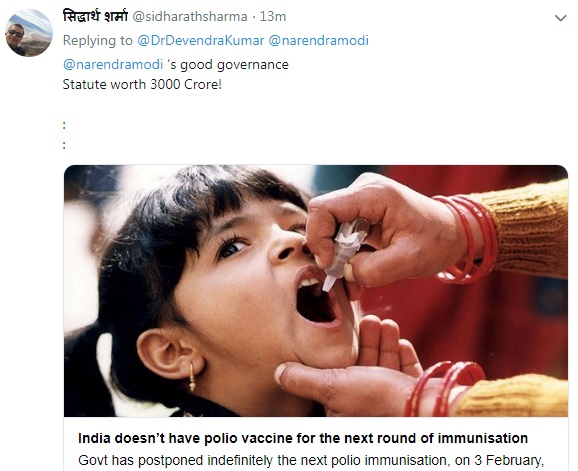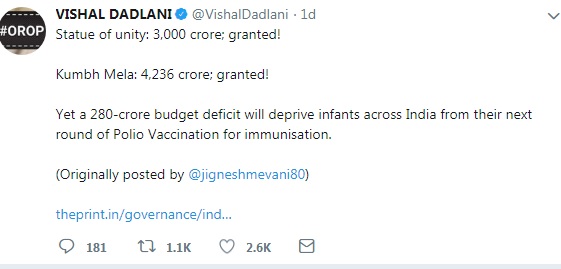 The issue was going viral online until the Union Ministry of Health and Family Welfare came out with a statement refuting the allegations and announcing categorically that the immunization drive will be held as per the schedule on February 3. "There is no shortage of Oral Polio Vaccines (OPV) and Inactivated Polio Vaccine (IPV) in the country," the ministry said in a press release. (See the press release here)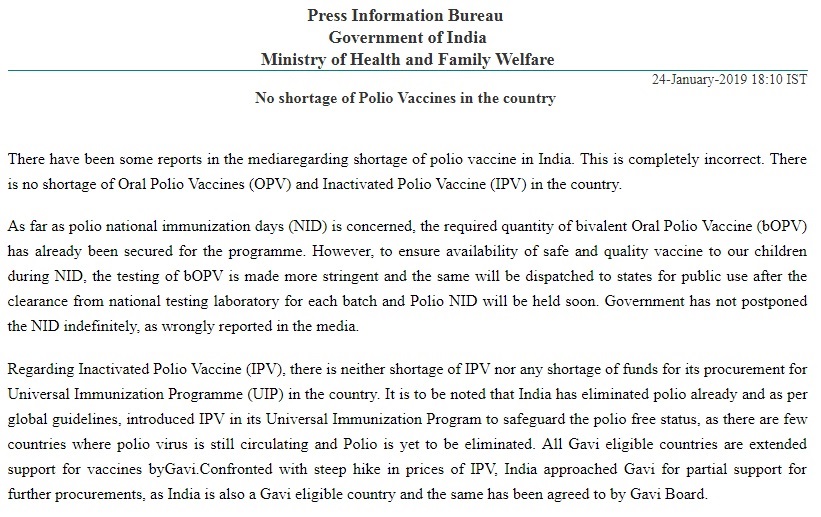 The government has also said that the required quantity of bivalent Oral Polio Vaccine (bOPV) for the national immunization day has already been secured.
Last year, more than 17 crore children of less than five years across the country were given polio drops as part of the drive of Government of India to sustain polio eradication, on January 27. But this year, it has been delayed by one week.
Conclusion:
The story was based on secondary sources and lacked authenticity. A slight delay by one week, owing to retests, has been misinterpreted as lack of sufficient quantity of vaccination in the country. Our rating of this news is ???? (Mostly False).