A video on Youtube was going viral on social media stating that there was a terrorist attack at the Tirumala-Tirupathi bypass road and that one person was killed and three were arrested.
See the Youtube video headline:
Here's a twitter message that reiterated that one person died on spot while three others were arrested. See the message below:
Near Tirumala Bypass 4 Muslim Jihadi Terrorists. One on Spot Death and 3 Arrested https://t.co/ApXIC3PHnS

— Manju Neereshwallya (@neereshwallya) January 21, 2019
See the video headline put out by another website here: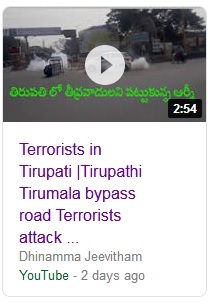 What's the truth?
Just after the state assembly elections, the Telangana Police wanted to test its elite commandos team OCTOPUS' (Organisation for Counter Terrorist Operations) skills and conducted a mock drill in a temple complex and at a hospital on January 11 and 12, respectively.
After conducting the mock drill, police officials told the media present there that the drill was conducted on the orders of the state Director General of Police. In fact, the local police had released a statement to the media stating that the mockdrills were conducted at the behest of the state DGP and Warangal Commissioner. See video below that corroborates the police version:
The city police official in the video has clarified that it was merely a mock drill and not a terrorist attack. The mock drill involved highly skilled commandos and there is nothing to worry about, he said in Telugu. It was held "to send a message to the people that the police is always ready to rescue them in case of any terrorist attack."
But the video was making rounds for hours stating that a terrorist attack did take place at a temple and raising the tension among the people. Until police clarified that it was only a mockdrill, the video did make rounds and all those who were sharing the video were forced to change the headline.
Conclusion:
The videos on Youtube or on other platforms should be fact-checked before sharing them online at the face value. Our rating of this news story is ????? (Totally false).