A PTI report quoting local Divisional Forest Officer said several trees were removed without obtaining permission for a helipad at Bolangir in Odisha and an enquiry was ordered. PTI later removed the story.
The helipad was being constructed for the upcoming visit of Prime Minister Narendra Modi. Soon, ABP News TV channel telecast a news claiming that the helipad at Bolangir precipitated the felling of 1,000 trees to make way for the helipad.
However, when the video was checked, Digiteye India found not more than 4 to 6 trees cut down. But the claim based on this video that 1,000 trees were chopped off just for the helipad was making rounds in social media. (See video below)
In Odisha, over 1,000 trees were felled to make a temporary helipad for the upcoming visit of Prime Minister Narendra Modi.#NarendraModi #Odisha #India pic.twitter.com/02ltP2ajEH

— ABP News (@abpnewstv) January 15, 2019
Local BJP leader and Union Petroleum Minister Dharmendra Pradhan has denied the report but the issue remained viral on social media until a clarification was put forth by the East Coast Railway spokesperson stating that the land, belonging to the Indian Railways,  was barren with bushes and few saplings, which had been cleared, while only a few trees were trimmed for the landing of the chopper.
The issue was covered widely in the mainstream media and here is the TOI Bhubaneshwar edition's clarification on this story:
Leaves/branches of few trees on Railway land had to be pruned to give full and proper space for helicopter movements.
4. All concerned authorities were a part of all discussions and in greater administrative interest, few plants and shrubs had to be removed.

— TOI Bhubaneswar (@TOIBhubaneswar) January 14, 2019
However, Digiteye India further searched the landscape using Google Maps and found the following images to fact check. Last year's Google Maps image of the area next to the Railway Station where the helipad was built before it was built shows not a thousand trees for sure but only 4 to 5, with many saplings and bushes visible. See the marked are in the picture below. Even after construction of the helipad, the area looks same, indicating not many trees were cut. See images:
MAP BEFORE: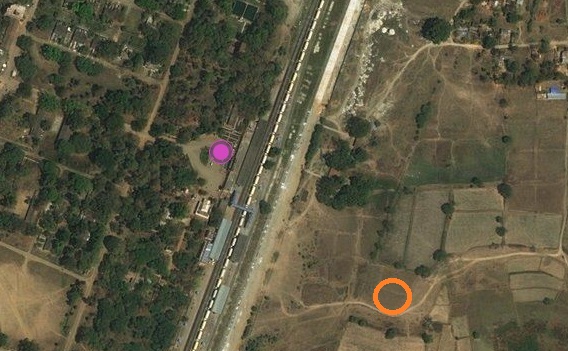 CURRENT MAP:
The white spot in the map is where the helipad was reported to have been built. Look at the map above that was taken in 2018. While the new constructions in the above image are missing in the picture below and the trees were nowhere visible either. Hence, the report that 1,000 trees have been cut can be termed an exaggeration. Our rating of this news is ? (Exaggeration of truth)
(This story has been updated with the video embedded and additional inputs inserted]