Kapil Sibal waiting Outside Supreme Court to urge the SC to Postpone #MallyaExtradition till after 2019 Lok Sabha polls, citing "huge political ramifications"#VijayMallya #ModiGetsMallya #mallyacomingback pic.twitter.com/hpj4u7B25f

— President of Dracula's (@PresidentDrMK) February 4, 2019
A surprising claim about Kapil Sibal went viral on social media on Thursday claiming that the Congress leader, who is also a lawyer, was representing Vijay Mallaya and had appealed against the extradition of the business magnate in the London High Court. Mallya fled the country in 2016.
These claims started doing the rounds following the news of UK Home Secretary's clearance of Mallya's extradition. It has appeared on Facebook, Twitter and WhatsApp. Different interpretations were given to the message including the above tweet that said Sibal was outside the Supreme Court of India seeking postponement of Mallya's extradition, that is baseless and absolutely out of context as the hearing was in London court.
The message below says that Congress leader Kapil Sibal is Mallaya's lawyer. It further claimed that the petition sought that the extradition should be stopped till the elections as it might disrupt the political scene.
The initial movers in this social media storm included the Facebook page 'NAMO' with more than 4.5 million followers. The message is going viral and Kapil Sibal is being targeted as seen in the message written alongwith the image in this Facebook post:

Digiteye India has taken up the claim for fact-checking as similar claims against Kapil Sibal had come to our notice in the past. Sibal told the media that it was "absolutely false," and categorically denied it saying, "I have never represented Mallya."
Originally, the satire website fakingnews.com carried this news not under Editorial but as a fiction. Some people started spreading it as real news on Facebook and Twitter. See the screenshot below of the claim, which the website Fakingnews now has deleted.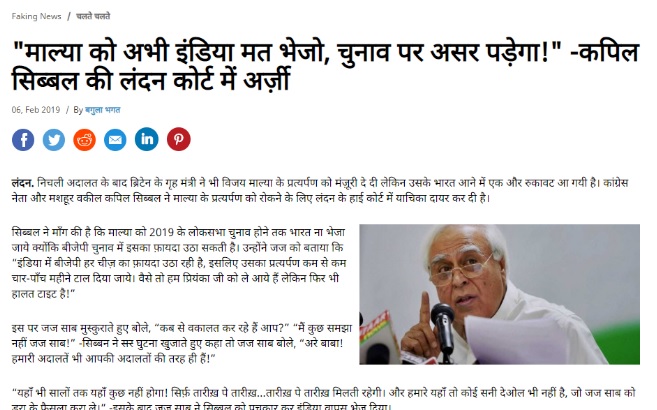 See below another social media message that claims that Kapil Sibal had asked the Indian Supreme Court for the postponement of Vijay Mallya's extradition.
Congress leader Kapil Sibal asks SC to intervene and postpone Extradition of #VijayMallya till 2019. It may affect Election.#ModiGetsMallya

— Manoj Goenka 🇮🇳 (@iam_manojgoenka) February 5, 2019
As Kapil Sibal reiterated, he never represented Vijay Mallya, let alone representing him in the UK courts to defer his extradition to India until the elections.
This is not the first time Congress leader Kapil Sibal has been targeted. Last year, a right wing Facebook group BJPalindia with 145,000 followers posted an image of Kapil Sibal stating that he had vowed not to allow the Ram mandir construction as long as he was alive. See the screengrab of the post, which is removed now: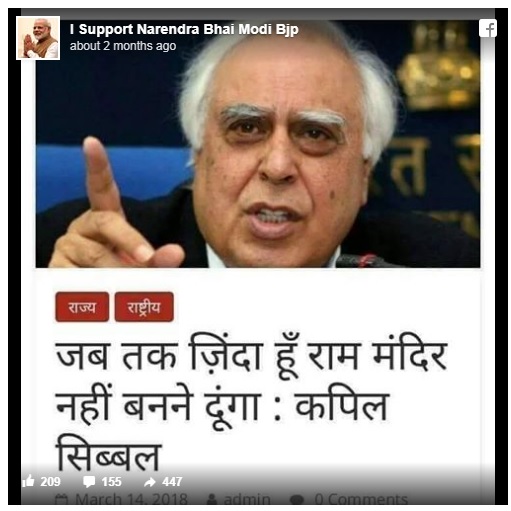 Conclusion: Kapil Sibal never represented Vijay Mallya in the courts of London, nor did he move any petition to defer the extradition of the businessman, who is sought in India for evasion of loans. Our rating of this story is ????? (Totally false)