A photograph featuring a tarred road where people stand barefoot as if they enter a temple is now the hottest debating point among political buffs in India. The image was shared widely by right-wing supporters, and they claimed that it is Narendra Modi's governance which actually has brought a positive change in India. Some Modi supporters even went ahead and proudly proclaimed that 'Achhe Din' have reached India.
One of the most noted personality who shared this photo on Twitter was Pawan Durani. It should be noted that Narendra Modi is following Pawan Durani on Twitter, and the tweet he made soon went viral on social media platforms.
"When some distant village gets road for the firsttime, this happens. Thank you PM @narendramodi for caring," he wrote. It's entirely untrue as removing cheppals before using the road is not the case anywhere in India but in Indonesia, it would have meant utmost reverance for the newly-built road. Surprisingly, Durani deleted the tweet after some hours, but within that short period of time, the tweet racked up more than 5,000 shares.
Image of the tweet: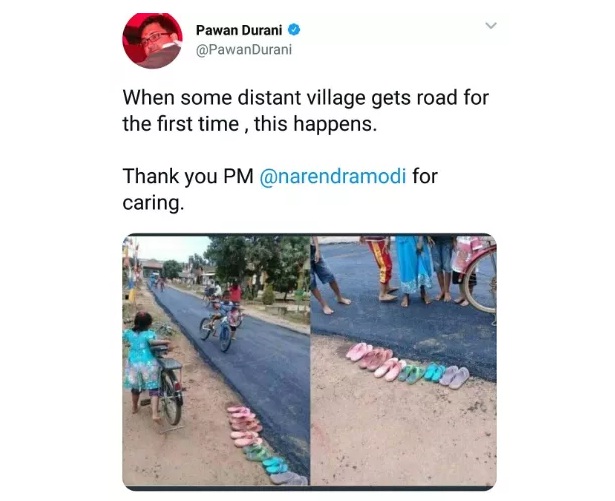 Same is the case with many Telugu and Malayalam Facebook pages but surprisingly those posts were  deleted quickly.  But using the image shared by Pawan Durani, Google reverse image search has found that these photos were initially shared by Indonesian website Brilio.net. It was shared by a popular news portal, The Quebec Times.
As per the report published by The Quebec Times, the image was taken from the Indonesian province of Lampung.
"Recently in the Indonesian province of Lampung was first tarmac road. It was a real event for local residents, who even took off the shoes to walk on it. If they wanted to feel the asphalt under bare feet, whether he was afraid to stain. And of course most of all were amazed by the smallest inhabitants of the village," wrote Quebec Times in their report.
Conclusion: The news report published by The Quebec Times and Brilio.net clearly reveals that the images that show people walking on a tarred road with bare feet were not taken in India but from Indonesia. Our rating of this claim is ????? (Totally False).