First, the saga over a Muslim-centric manifesto by Congress Party surfaced when Times Now reporter Paul Oomen has claimed to have obtained a draft version of it, which had at least 7 Minority schemes with special emphasis on promises made to Muslims. See the picture below with marked ones.
In fact, the version he shared with Quint in Telugu was the same that Quint claimed was the final draft and there is not a single letter that differs in all the three versions. So, where is the question of rough draft and final draft when everything is the same and verbatim?
Some publications have claimed that the final draft has been modified but no changes have been made going by the three versions put out by the Quint.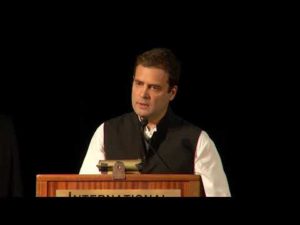 However, the page reproduced in TV debates was not read with relevant pages under Religious sector meant for other groups, including the Hindus, especially temple priests, SC, ST and OBC groups.
The Congress Party has clearly mentioned Muslim minorities and in Telugu this does not create much apprehension as is made out by Times Now or Republic TV channels. It is true that these TV channels have depicted every promise made under Minorities Section as discriminatory and that Hindus were neglected. That's not true since other sections are devoted to Hindus and other groups.
It is also not true that the final version differs from the first version of the manifesto as claimed. The manifesto remains same and no changes have been made going by the text. So, the claim by Times Now and other publications was also equally untrue, if one takes time to read the fine print and compare.
Essentially, the debate is over the hyper-toned promises to Muslims in the manifesto by Congress. Here's what Times Now and Republic said: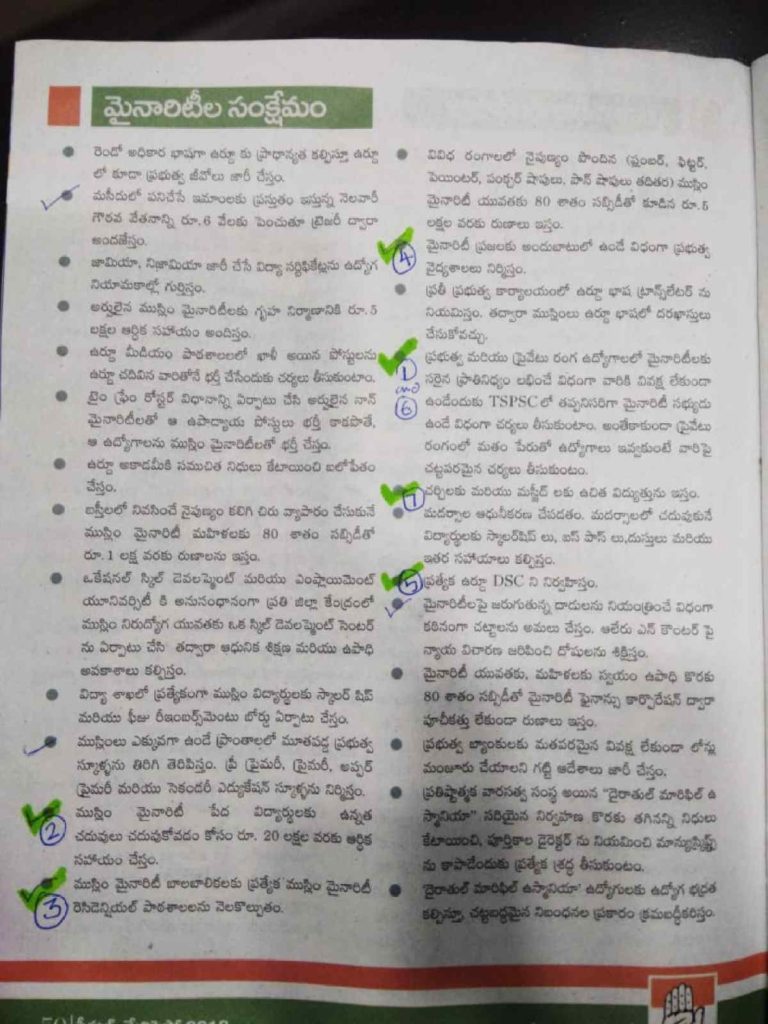 1. Muslim youth will be given government contracts.
2) Rs 20 lakh financial assistance to poor Muslim students for overseas education
3) Special residential schools to be set up for Muslims.
4) Free electricity supply to all Mosques and Churches in Telangana, honorarium for Imams.
5) Rs.5 lakhs for Muslims alone to build their own houses.
6) Hospitals only for Muslims
7) Discrimination in jobs for Muslim minorities will not be tolerated.
Telangana CONgress Unit in it's election Manifesto promises several sops to voters on religious basis…
Their pseudo commitment to secularism is completely exposed!!

Divide and rule & communal politics hits it's all time low !!#TelanganawithModi pic.twitter.com/BfKZBKe3d9

— Shobha Karandlaje (@ShobhaBJP) November 27, 2018
What does the manifesto actually say?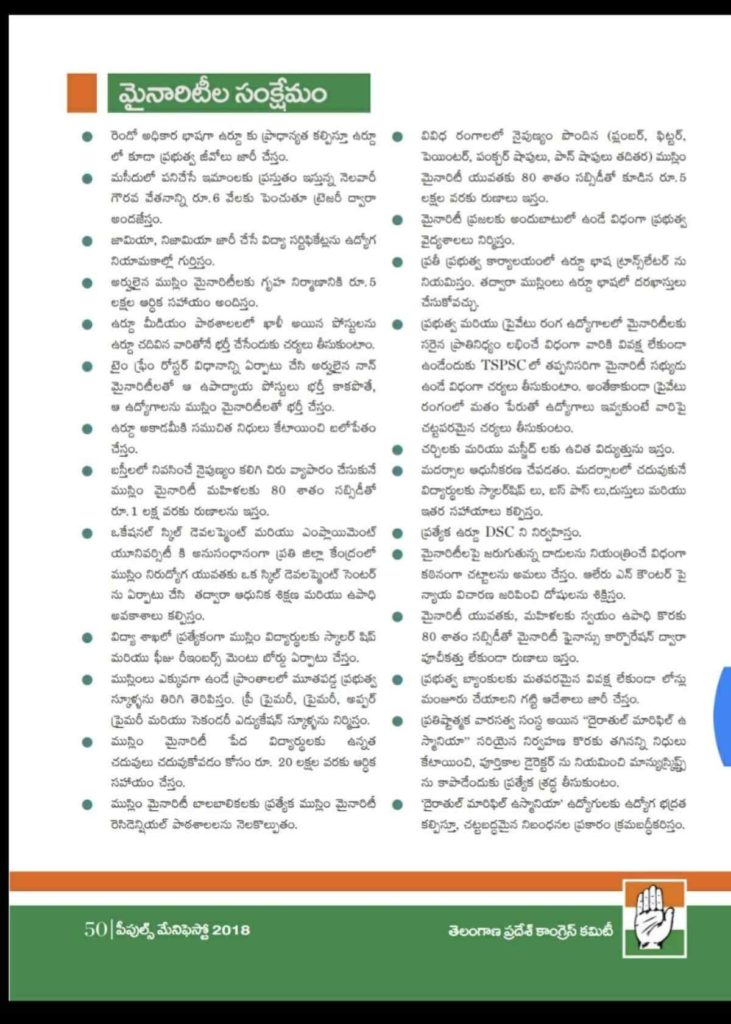 1. Not Muslim youth alone but it says SC, ST and minority youth will also be given government contracts.
2. Rs 20 lakh financial assistance to poor SC, ST, EBC, OBC and minority students for overseas education, not Muslim youth alone.
3. Special Residential Schools for SC, ST and minorities, which has been in vogue in Telangana for many decades and they are not exclusively for Muslim girls as claimed by some hyper sensitive media.
4. The Congress manifesto promises free power not merely to mosques and churches as claimed but to temples as well, if one reads other sections too. It has also promised honorarium, insurance and health cards for Pujaris working in 643 temples, while the Minorities Section mentions only honorarium to Pastors and Fathers on par with Pujarais of Temple and Imams/Maozan of mosques.
5. Yes, the manifesto says eligible Muslim minorities will be given Rs. 5 lakh financial assistance for construction of own house. This has been extended in other parts to cover SC, ST families, who were promised in fact, Rs.1 lakh more at Rs. 6 Lakh for the construction of their own house.
6. Congress manifesto says hospitals will be built in areas where minorities are concentrated and never restricted treatment only to Muslims as claimed by these TV channels.
7. The manifesto said all kinds of discrimination on religious grounds in giving jobs in both public and private sectors will be stopped. Strict action will be taken against those who refuse jobs in private sector to anyone on the basis of religion. This is what even the Indian Constitution guarantees.
Conclusion: The manifesto was misinterpreted and the translation often fell short of truth giving the news a different angle. Our rating of this news is ??? Misinterpretation.