Amid Pulwama attacks on Central Reserve Police Force (CRPF) jawans, killing 45, fake news have kicked off several other controversies. Among them, a clip showing Bollywood actor Shah Rukh Khan donating Rs 45 crore to the gas tragedy victims while ignoring our own jawans has re-surfaced taking many people by surprise.
Shared anew when the Pulwama attacks are overshadowing everything else on Twitter and Facebook, these messages started going viral with many people questioning the Bollywood actor when 45 CRPF jawans were killed in Jammu and Kashmir. Some have tagged Shah Rukh Khan as anti-national as seen below: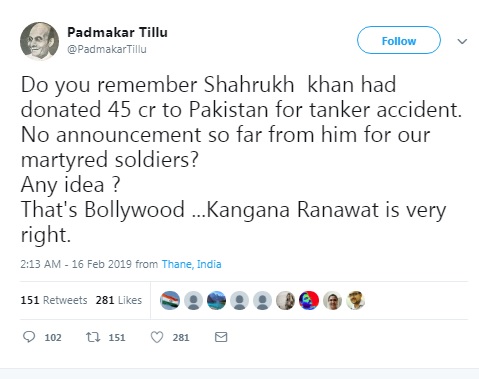 Here's Youtube filled with videos claiming that Shah Rukh Khan has made a donation of Rs.45 crore when Indian soldiers are being killed in Jammu and Kashmir: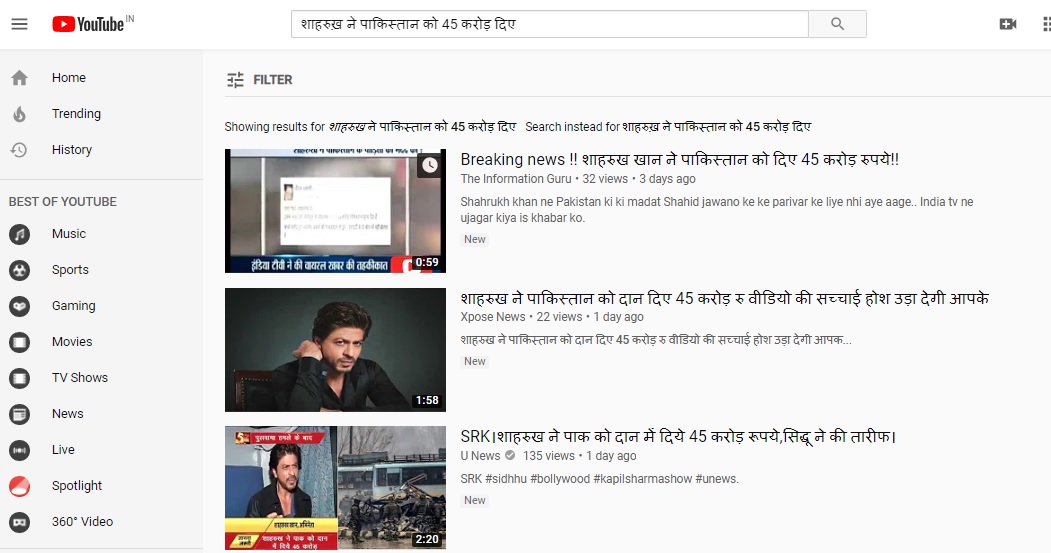 What's the real story?
The accident that occurred in Pakistan saw a tanker turned turtle leaking fuel on the highway. It attracted many villagers who rushed to the spot to collect the fuel but got killed when a fire engulfed them all. The accident occurred on June 25, 2017, in the Kachi Pul area, about 8km from Ahmedpur East in Punjab province's Bahawalpur district. More than 190 people were killed in the incident.
A tragic incident indeed, but soon reports and messages started appearing in Indian media in 2017 claiming that Bollywood actor Shah Rukh Khan donated Rs.45 crore to them. However, India TV among others had debunked the video soon after. See India TV video here:
Now that the Pulwama attack on CRPF jawans is in the news, miscreants have again started sharing this fake news. When we contacted SRK's media relations team, they said no such donation was ever made and that it was clarified way back in 2017 itself. Even the actor himself clarified that he keeps his charity activities to himself instead of boasting about them, being a "Muslim".
Here's the video about his remarks to a social media journalist:
Fake link regarding SRK's donation to peshawar.

Spread #StopFakeNewsAgainstSRK pic.twitter.com/GTDWpNBUuy

— SJ (@Glorious_SRK) February 18, 2019
Conclusion: The claim was refuted in 2017 and reiterated now by the actor's PR team. Hence, the social media outrage against the actor for making a donation to Pakistan in 2017 was misinformation aimed at subverting the truth. Our rating of this claim is ???? (Mostly False).