As Kerala is witnessing immense speculation over the way two women managed to enter the sanctum sanctorum of the Sabarimala temple amid protests, miscreants are using images and news to mislead people.
A month ago, the death of a man due to other causes was depicted as a result of lathicharge by policemen. In another, a woman activist of BJP was slammed for entering the temple despite her pleas that she was over 50 years. The social media is equally divided between the ruling left front and the BJP in Kerala. The latest controversy is the suicide by a devotee that is equally intriguing.
A social media message with the image of a Sabarimala devotee appeared on Twitter and Facebook with a caption that identified him as Jayarajan from Valanchery, Kerala, who had committed suicide in protest against the entry of two women activists into the temple on January 2.
Tweeted by @Partyvillage017, the twitter message got retweeted over 1300 times, while it was widely shared on Facebook. Here's the tweet: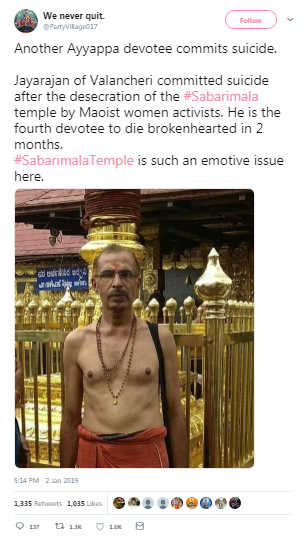 But the truth is shocking as the person committed suicide not after January 2nd but before, to be precise on January 1, 2019. That means one day before the incident actually took place. His own brother Gopi confirmed to the media that the suicide has nothing to do with the Sabarimala issue.
He said that the suicide was not at all linked to the Sabarimala issue though his brother was a Sabarimala devotee. He was a retired post-master and was undergoing a financial problem. Gopi also said that his brother was not mentally ill either, denying the news being made out of the suicide.
Even  Jayarajan's daughter denied the link of her father's suicide with the Sabarimala issue and filed a police complaint stating it, confirmed the local police.
Conclusion: The event was misinterpreted to convey an entirely wrong opinion against the rivals. Our rating of this news is ????? (Totally False)