A video of Amitabh Bachchan thanking doctors at Nanavati Hospital, Mumbai is doing rounds on social media. This video has been picked up by leading media outlets and was published online and also broadcasted. The video can be found on Twitter, Facebook, and even YouTube.
Bachchan equates the doctors with Gods and thanks them for their service in "these trying circumstances". Netizens have shared this video multiple times after Bachchan got tested for COVID-19 on July 11, 2020. He is currently admitted at Nanavati Hospital.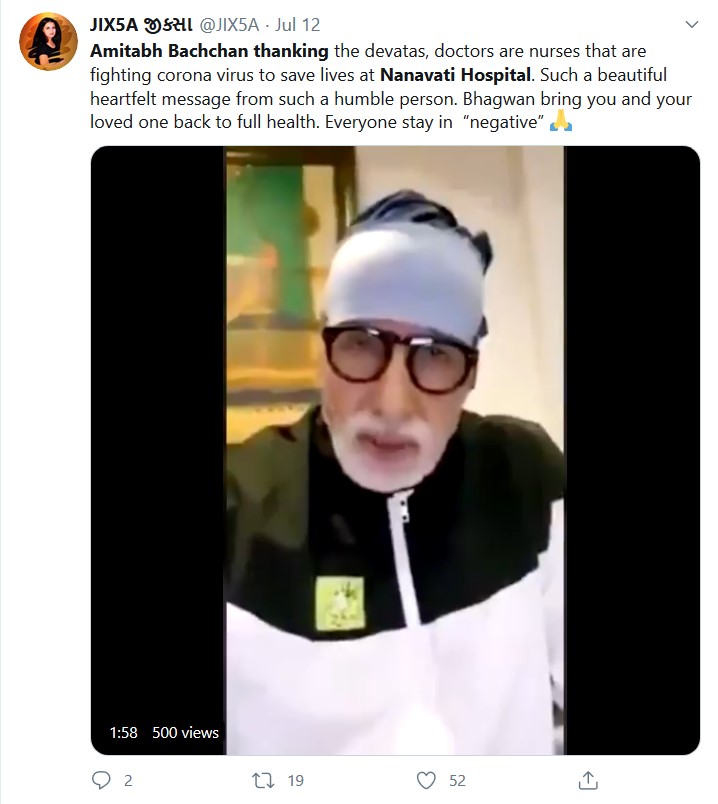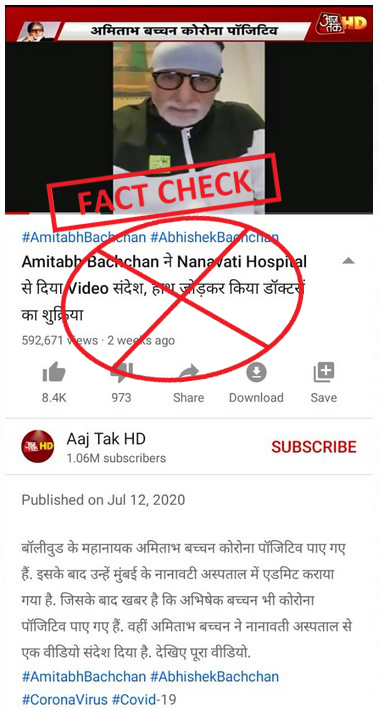 Fact Check: 
Digiteye India took the video up for fact-checking. We checked the video on inVID and conducted a reverse image search of the keyframes. Using the tools in Google Search, we changed the time to look for videos before July 11, 2020. This is the date when Bachchan tweeted about getting tested positive for COVID-19.
We found a video on YouTube posted by a channel named 'Don Cinema' on April 23, 2020 titled "AMITABH BACHCHAN | SALUTE TO DOCTORS | NANAVATI HOSPITAL | CORONA WARRIORS | COVID 19 | INDIA" which has gathered more than 1.5k views. Similarly, on April 21st 2020, he had tweeted thanking all the front line workers. In the video, he talks about a billboard which he saw in Surat, Gujarat. The official handle of Surat Municipal Corporation (My Surat) tweeted the same video on April 23, 2020.
Nanavati Hospital issued a statement on Twitter where it mentioned that the "aforesaid message was created in April 2020 to motivate the frontline nurses, doctors and staff working in COVID wards". The statement mentioned that the video was created after Bachchan had donated PPE kits for the hospital's COVID facility.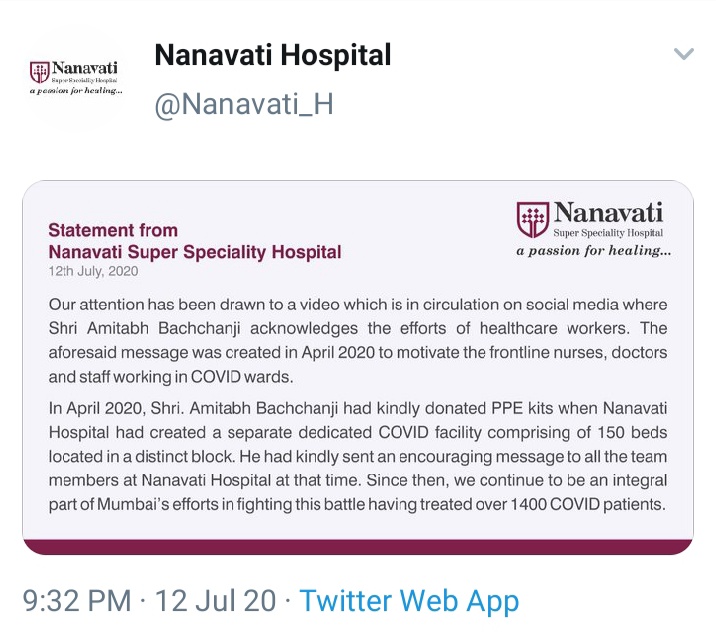 However, this old video resurfaced after Bachchan was admitted to the hospital with false claims that it was after he tested positive. 
Digiteye India received another message on its WhatsApp number. The message was a forward from a WhatsApp status. The message made a variety of claims such as how even though Amitabh Bachchan is asymptomatic yet he got himself admitted in a hospital and that he is thanking doctors at the hospital because he is on the Board of the hospital and it is a publicity stunt. See the message below: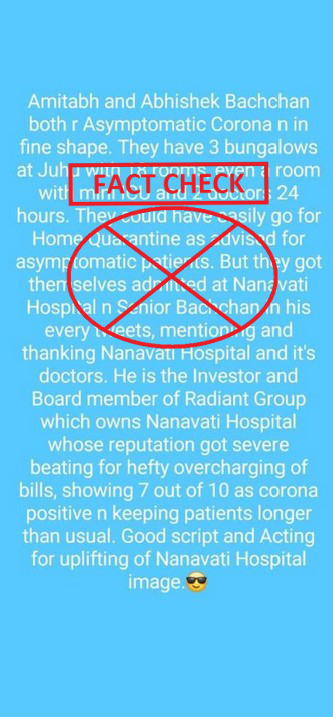 We found out that Bachchan thanking medical staff is an old video. He is indeed an asymptomatic patient and usually, these patients are advised to undergo home quarantine. But being a septuagenarian, he is at a higher risk of COVID-19. Apart from his old age, he is a tuberculosis and  Hepatitis B survivor as stated in a Times of India report. Individuals with comorbidities and the elderly have a higher risk of contracting the coronavirus.
Secondly, the message claims that Bachchan is an investor and is on the Board of Radiant Group which owns Nanavati Hospital. It is true that Radiant Life Care Private Limited owns Nanavati Hospital but Amitabh Bachchan is not a Board Member of the same. The group had a merger with Max Healthcare and it can be seen on their website that he is not a member.   
Conclusion: Our rating

– Mostly False.