Pakistan has published 20 so-called commemorative stamps under caption 'Atrocities in Indian-occupied Kashmir', including a fake stamp that uses the photo of Kashmiri Pandits' protest photo in Delhi that has nothing to do with the alleged atrocities.
In a letter addressed to the Secretary-General of the United Nations, a Kashmiri Pandit group called 'Roots in Kashmir' (RIK) claimed that one of the stamps included an image from their protest staged at Jantar Mantar in New Delhi held way back in 2014. (See the picture)
Another stamp tried to glorify Hizbul Mujahideen terrorist Burhan Wani, killed in 2016. Here's what the group RIK said on social media:
Pakistan adds insult to injury by using picture of RIK PROTESTORS AGAINST PAK TERROR to propogate fake narrative of human rights violation by India. The real violation is done by Pakistan itself by ensuring the ethnic cleansing of the aborigines of Kashmir; the Kashmiri Pandits pic.twitter.com/cXoizZ883B

— Roots In Kashmir (@RootsInKashmir) September 30, 2018
"While the issuance of postage stamps was a malicious attempt to raise the bogey of Kashmir, we have found one stamp from a protest carried by us to protest against the forced exodus and exile of Kashmiri Pandits, the perpetrators of which are terrorists and subversives supported by Pakistan," RIK said in its letter dated October 1.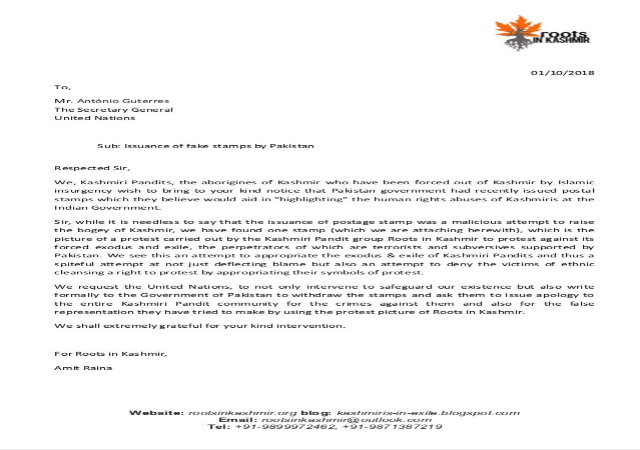 Conclusion: Pakistan has obviously used wrong pictures to portray as examples of Indian atrocities, which was never the case. Our rating for the claim is ??? Misrepresentation.