A screenshot of a news bulletin is shared massively on social media. The clipping features RBI Governor, Shaktikanta Das, addressing the nation while the text on the right-hand side mentions how banks will levy charges on cash credit, current account, and overdraft accounts. Social media users say how this will not let them open current accounts.
Fact Check:
The screenshot mentions the 'INDIA FIRST' which is the name of the YouTube channel from which it has been taken. Digiteye Team checked all the video uploads from this channel and found out this video had been uploaded October 28, 2020, titled "बैंक ने नए नियम "आपकी जेब कटेगी" | Latest News 2020". The screenshot has been taken at 0:17 minutes from the 1:29 minute long video. The video talks about the different charges banks will levy from its customers. Some banks had already started levying these charges effective from November 1, 2020. Other banks will follow suit.
According to Razorpay, "the new deposit and withdrawal charges apply to both savings & current account holders, including senior citizens. However, banks have given relief to Jan Dhan account holders in this case."
According to the new guidelines issued, differential charges will be levied on transactions from savings and current accounts. For savings account, the first three withdrawals in a month will be free while Rs 100 will be charged on each withdrawal beyond the third transaction. For deposits in a savings account, the first three transactions in a month will be free, beyond that Rs 40 will be charged per deposit.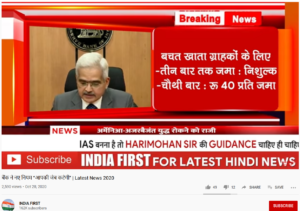 For current account, the first three withdrawals in a month will be free while Rs 150 will be charged on each withdrawal beyond the third transaction. Coming to deposits in a current account, deposits up to Rs 1 lakh will be free, however, if the amount exceeds Rs 1 lakh, Re 1 per thousand or part thereof (minimum charge- Rs 50, maximum charge- Rs 20000) will be charged.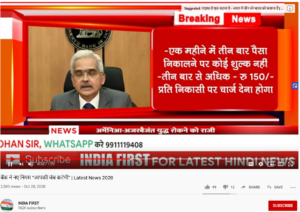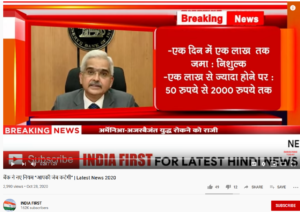 Business Standard reports "Bank of Baroda will start charging its customers for transactions beyond the prescribed limits from November 1. Names of other banks like Bank of India, PNB, Axis Bank and Central Bank are also emerging in reports, but they are yet to take a final call on the matter."
Social media users have confused this news with RBI notification issued on August 6, 2020, which stated that banks should route all transactions via cash credits and overdrafts rather than opening new current accounts for customers. RBI, in its notification, has called this move as a "need for discipline". Regarding this move, Business Standard reported that it "will avoid hoodwinking of the system and reduce the blind spots". The RBI notification also asks lending banks to route term loans from a current account only if the borrower does not have a Cash Credit or an Overdraft Account.
Conclusion:
Banks usually levy charges to pay for their operating costs and to make profits as they do not sell or buy anything. They play a role similar to an arbitrageur. While the information presented in the video is true, the screenshot has been taken out of context. The picture is spread rapidly and information is misinterpreted. Our rating

– Misinterpretation.