@IndiGo6E please see this Telugu news channel @NtvteluguHD spreading fake news about your fare it's 50k HYD to Vijayawada hahaha
Compare the timing in my 2 pics for the truth. pic.twitter.com/YDk6A1jAMd

— shafi شفیع (@MohommadShafi) January 9, 2019
A quick look at this twitter message will surprise any reader as an air ticket, that too a one way trip from Hyderabad to Vijayawada in neighbouring Andhra Pradesh, shows a price range that is beyond imagination. Usually, the ticket price should not be more than Rs 17,000 even during the peak season, but NTV has aired a news on January 9, 2019, showing the price as Rs.50,000.
What's the truth?
According to an airport distance calculator, air miles distance from Hyderabad Airport (HYD) to Vijayawada Airport (VGA) is 163.86 miles or 263.7 kilometers. 
Taking its cue from the twitter message from one Shafi, Digiteye India took it up for fact-checking and found that Shafi was far behind the truth as the price range has actually gone up to Rs.1 lakh as of January 17, 2019.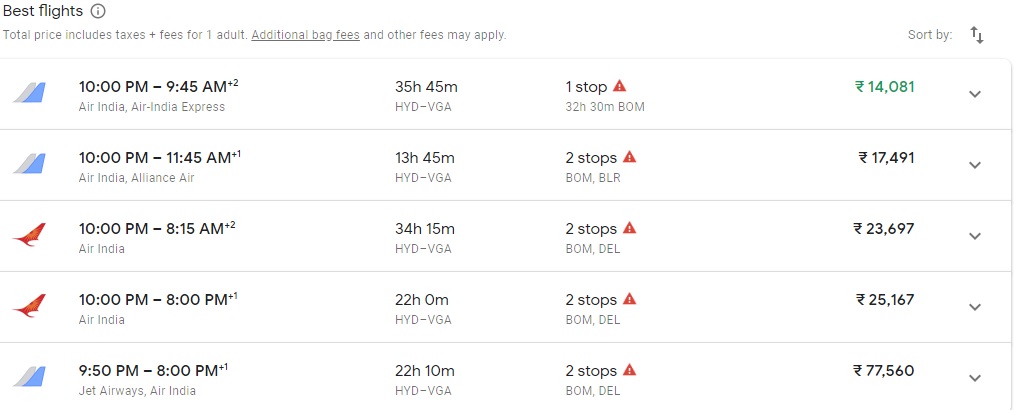 How is this possible? Certainly, it is not fake news but a genuine fact. The journey, though one way, has one or two stops in between, and the layovers described in Google Flights search shows overnight layovers of at least 9 hours.
See the table above. The fares are almost double of what Shafi got in his search on January 9. He has alleged that NTV is spreading fake news but NTV is reporting the bare truth. With no stopover, the ticket price has gone up to Rs.14,081 and the flight with two-stops in between has touched Rs.17,481 to Rs.1,00,772 on Jet Airway/Air India. Here's the video of NTV:
In a market-driven economy, it is the urgency that dictates business. No wonder, even the government-owned Air India or private airlines Jet Airways collect anywhere from Rs.17,000 to Rs.1 lakh for a round-about route that connects two major cities in two Telugu-speaking neighbouring states.
Conclusion: Despite trolls on social media, NTV report was, in fact, right and the news they showed on January 9, is true. Our rating is TRUE

.