An image showing policemen sitting on dharna (protest) holding placards which read:"No NRC, No CAA" is going viral on social media. However, the eye-catching protest has made many people wonder what's happening. The caption too reads:"A little more… it's just a step away… Inshallah… revolution will come."
Posted by one Facebook user "Moizuddin Khaja", the message in Hindi was shared 2,800 times. See the post here: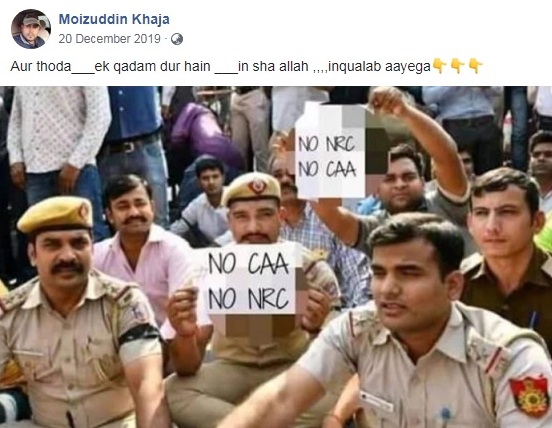 As protests against the Citizenship (Amendment) Act (CAA) and National Register of Citizens (NRC) are being held in several parts of the country, the Facebook message has gone viral owing to its strange appeal as policemen rarely protest.
When Digiteye India team reverse-searched the image on Google, here's the result page that showed an old photo published on November 5, 2019 in 'The Week' magazine. See the real picture and the context: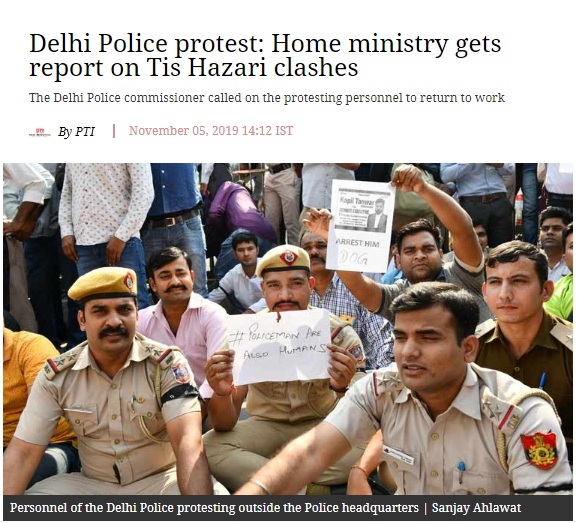 As per this report, on November 2, 2019, policemen and lawyers at Delhi's Tis Hazari court had clashes over parking space in which some persons were allegedly assaulted and two days later, one policeman was assaulted outside the Saket court in south Delhi.
Following the incidents, policemen protested holding placards which read:"Policemen are also humans" and another placard demanded the arrest of one Kapil Tanwar. So, the original image was photo-shopped with placards showing new slogans which are entirely different in content and context.
Conclusion: Our rating for the claim is ??? Misrepresentation.