Social media is abuzz with an image of corpses of dogs dumped amid what the claim said was that they were killed in Gujarat ahead of United States President Donald Trump's India visit. The state visit of Trump will be on February 24 and 25. The US President will visit Ahmedabad in Gujarat and then he will visit the Taj Mahal in Agra in Uttar Pradesh before going to New Delhi.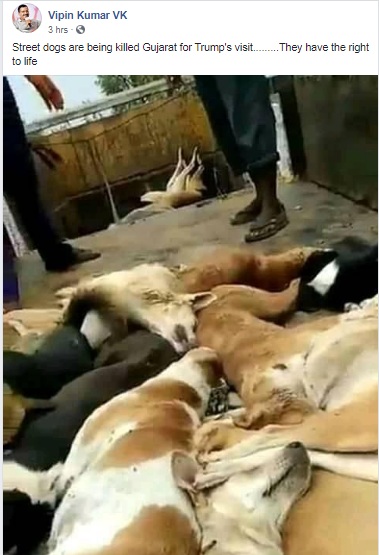 The message with the photo reads: "Street dogs are being killed Gujarat for Trump's visit." The image displayed several corpses of dogs. Here's another message received on WhatsApp: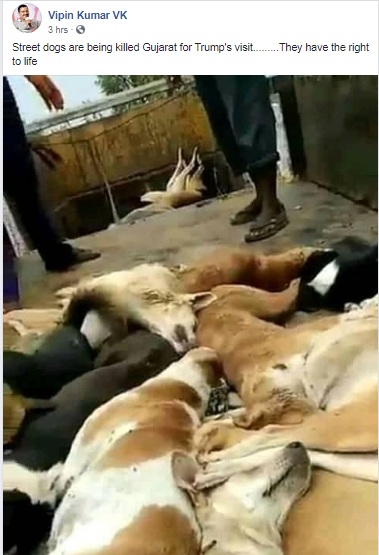 FACT CHECK
When Digiteye India took it up for fact-check, the visual turned out to be an year-old and not from Gujarat but from Telangana.
On Google Reverse Image Search, here's the image that made it headlines in Telangana last year when dogs were killed by the municipal authorities in Siddipet to carry out orders to control the growing population of stray dogs amid constant complaints from the local people. The video was shared by a local journalist Donita Jose who had reported widely on this case.
This is what all municipalities in #Telangana are doing to remove dogs.Complete violation of ABC rules. No dignity, no hygiene and not scientific. Mindless slaughter in #Siddipet @Collector_SDPT @arvindkumar_ias @TSMAUDOnline @Manekagandhibjp @peta @bluecrosshyd @amalaakkineni1 pic.twitter.com/BprnMLxLcg

— Donita Jose (@DonitaJose) June 22, 2019
Conclusion: Using an old image, this claim tried to mislead people that dogs are being killed mercilessly in Gujarat ahead of US President Donald Trump. Our rating is totally false ?????.