A message on WhatsApp is making rounds since March 23 claiming that CNN (American news channel) has published an article on its website citing the benefits of tea with chemicals which are proved to be panacea to stop coronavirus and it claimed the Chinese city of Wuhan followed the same to turn the tide around. Here's the message from WhatsApp: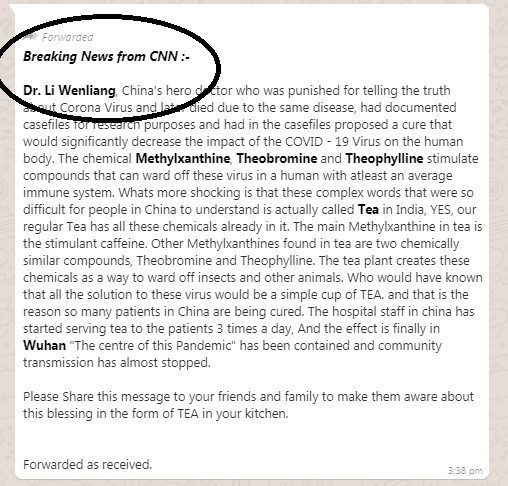 FACT Check:
A quick search on CNN yielded no such news story, proving the very source attributed was wrong. Another search for tea consumption in Wuhan to cure coronavirus did not get any results.
The claim stated that the deceased doctor and whistleblower Dr. Li Wenliang "had documented case files for research purposes and had in the case files proposed a cure." No such report appeared in any Chinese media.
The claim further mentioned that"Methylxanthine, Theobromine and Theophylline stimulate compounds that can ward off these virus in a human with atleast an average immune system. Whats more shocking is that these complex words that were so difficult for people in China to understand is actually called Tea in India, YES, our regular Tea has all these chemicals already in it. The main Methylxanthine in tea is the stimulant caffeine. Other Methylxanthines found in tea are two chemically similar compounds, Theobromine and Theophylline. The tea plant creates these chemicals as a way to ward off insects and other animals. Who would have known that all the solution to these virus would be a simple cup of TEA. and that is the reason so many patients in China are being cured. The hospital staff in china has started serving tea to the patients 3 times a day, And the effect is finally in Wuhan "The centre of this Pandemic" has been contained and community transmission has almost stopped."
In fact, the first evidence of this article was published by the WeChat account of Zhejiang CDC on Feb 26, but it has been removed, reported China Daily.
An immunologist told The Paper that the novel coronavirus infects alveolar epithelial cells. But the tea we drink won't reach the lungs anyway. Even if the in vitro experiments prove that tea can inhibit or kill the virus, it doesn't mean that drinking tea can do the same, said the immunologist, according to a news item in Asia One.
In fact, tea consumption is common in China, India, Japan and South Korea. However, there is no established relation between tea and the cure to coronavirus. Tea does have the ingredient Methylxanthine that is used in asthma drugs but no therapeutic evidence for coronavirus has been established so far by researchers, nor the World Health Organization. Our rating of the claim is misrepresentation ???.