The 'Statue of Unity', inaugurated by Indian PM Narendra Modi on Oct.31 marking the Unity Day in India has led to controversy and authorities have removed the plaque showing wrong Tamil translation and also missing many Indian languages, including Telugu. However, it was effectively painted as a fake news later, blaming those who raised questions over it.
Reverse image search showed the original tweet  with an image of a plaque installed at the venue that showed Tamil being taped over to correct the mistake and the tweet was from the Chief Minister of Gujarat himself and it had no Telugu script as seen clearly: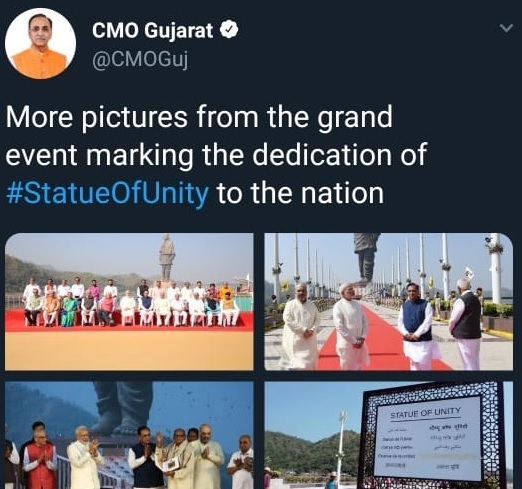 The linguistic row was not only for a misspelt Tamil version but also for missing Indian languages, including Telugu as rightly pointed out by many. However, the Sardar Sarovar Narmada Nigam has claimed that the picture of the signboard being shared on Twitter and Facebook was fake and no such signage was present at the site.
Spent around 3000 crores but 0 on language translation. #ஸ்டேட்டுக்கேஒப்பியூனிட்டி feeling shame on Government for wrong Tamil translation #StatueOfUnity pic.twitter.com/FupTEwgzk6

— Soundar (@soundarselvam) October 31, 2018
But soon another controversy was triggered stating that the signage did not have Telugu at all, making Andhra Pradesh Chief Minister to say that it was an insult on Telugus. He tweeted saying Telugu, a major Indian language, was ignored on the signage.
భారత దేశంలో ఎక్కువ మంది మాట్లాడే మూడవ అతి పెద్దదైన తెలుగు భాషకు #StatueOfUnity వద్ద గుర్తింపు లభించక పోవటంతో తెలుగు తల్లి బిడ్డగా నా మనసు క్షోభిస్తోంది. పైసా ఖర్చు లేని ఇటువంటి విషయాలలో కూడా తెలుగు వారంటే ఇంత వివక్షా?ప్రతి తెలుగు వారూ అలోచించి,తమ ఆవేదనను వ్యక్తం చేయవలసిన తరుణమిది pic.twitter.com/Wsmp0eTu5O

— N Chandrababu Naidu (@ncbn) November 1, 2018
However, officials cited the new planque where Telugu was written clearly and so are the other languages. The Telugu version reads, "Aikya Bharatam, Shreshtha Barat". Soon, Twitter was abuzz with messages trolling the AP Chief Minister for hastily commenting on fake messages on social media. But the truth is that there was a original planque without many regional languages like Telugu, Kannada, Odiya and Punjabi as shown in CM of Gujarat's official twitter.
The 182-metre high Sardar Patel statue was inaugurated on Oct 31 marking the birth anniversary of Sardar Vallabhbhai Patel and it becomes the tallest statue in the world.
Conclusion: Removing the old planque without Telugu script was a right decision but trying to portray it on social media as fake news is misleading. Our rating for this news is ?? Misinterpretation.
[CORRECTION: This is a revised and corrected version. Our earlier report titled "
Fake News precedes truth, Chandrababu Naidu falls for it" 
stated that AP Chief Minister was wrong in jumping to conclusion that there was no Telugu script on the planque and that hence, he tweeted in Telugu as above complaining about it. It was later confirmed that the CM was right as the old planque without Telugu was replaced with a new one with Telugu script on it. We deeply regret the error and stand corrected — Editor]